Got plans on Thursday November 14th?  You do now!  Come out to the Node to participate in the second annual 3d printer meetup hosted by Make: online and in person.  People from all over the world (currently 36 countries) in hackerspaces and similar places  are gathering in physical locations and joining up on a Google+ hangout to just have a 3d printing party!  It was loads of fun last year, and hopefully you can come join us this year!  If you can't make it to the Node, you can join at home from Makezine.com and MAKE's G+ Page.
Sign up to attend the Meetup and you could win a 3D printer! Enter for your chance to WIN at http://makezine.com/meetup/3dprinter. Winner announced during the MAKE 3D Printer Meetup on 11/14/13.
I'll be bringing this special issue of Make: Ultimate Guide to 3D Printing 2014  issue that just came today!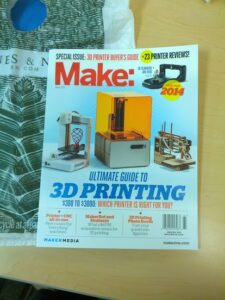 We hope to see you there!