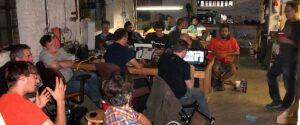 Come to our OpenHack every Thursday starting at 7pm to see what we do, get help with a project, share ideas and get to know lots of cool and interesting people! Sign up for our MeetUp to let us know you're coming or just stop by the Node at 2106 N Lovegrove Street. OpenHack is a general open-house night where there is no specific agenda, but you are encouraged to bring a project you're working on. At OpenHack we open our doors for the general public to see what a makerspace is like.
For those looking for a more structured evening, we host The More You Node nights. These are focused workshops on one specific topic like casting, laser cutting, CNC routing and electronics. Some of these are geared to be more instructional and some are more hands on. They are typically held in the evenings, first Mondays, second Tuesdays, and third Wednesdays, but check the calendar below to be sure. There is usually a modest fee for these classes for non-members, so be sure to keep that in mind. All of our The More You Node workshops are also listed on Meetup and Eventbrite.
If you'd like to host an event at the Node (one-time or recurring), stop by the regular meeting or run it by the discussion mailing list. Stay on top of events with RSS and iCal feeds.