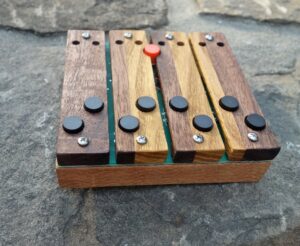 What:
The High Zero Festival of Experimental Music presents a Shnth Workshop with Peter Blasser in which participants assemble their own Shnth, a completely customizable handheld analog/digital synthesizer with unusual tactile controls, and then learn to program it via Peter's custom software. The instrument itself is made from hardwoods that Peter collects and cuts himself and this wooden case is itself is the analog sensor inputs in which the instrument is played. The digital heart can can be programmed via USB by your mac/PC/linux computer using a custom app and written in Peter's code language, shLISP. The instrument is highly mobile, with a battery that can be charged via USB. The Shnth can even store presets, allowing for numerous patches to be recalled as needed in the "field."
When:
Part 1, soldering and assembly of the instrument. Tuesday the 17th of Sept. 6-10pm. Here you will receive your kit and build it.
Part 2, Peter lectures about shLISP and FISH. Here you will learn to use and customize the Shnth you have built. Saturday the 21st, 4-7pm.
Where:
Baltimore Node Hackerspace.
How Much:
The cost for the workshop, which includes all the parts and tools needed to assemble the Shnth, is 220$. Ordering a complete instrument from Peter is 300$ and does not include direct lesson from Peter. Its a great deal!
How:
You can "walk in" on the 17th, however their are only 10 kits available. Your spot can be "reserved" by paypal-ing via the link at www.shbobo.net 
the cost of the workshop. Include a note "Baltimore High Zero Workshop.
Who:
Peter Blasser is the founder and creator of Ciat-Lonbarde instruments. He has been building and designing completely singular musical instruments out of his Baltimore workshop for the last 10 years. The High Zero Festival is a totally original festival of improvisation and experimental music/culture that is now in it's 15th year.