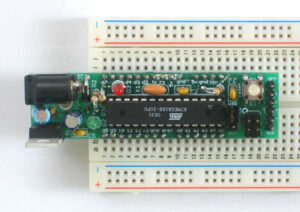 Heads up, we have a workshop coming up August 28th, details are below and you can register here
In this beginner-to-intermediate workshop, you'll learn to solder and do some simple prototyping by building your own Boarduino kit!
The Boarduino (http://www.ladyada.net/make/boarduino/) is a clone of the popular Arduino (http://arduino.cc/). It's an inexpensive microcontroller that is a great way to get started learning electronics and building your own awesome projects.
We will give an introduction to soldering and then take you through each step required to get your Boarduino up and running. We'll also show you the Arduino programming environment, and help you prototype a simple circuit and program.
Bring your laptop and we'll also help you get the Arduino software up and running, so you can write your first Arduino program!
The proceeds from each ticket support Baltimore Node, so that we can continue to run workshops in the future.
Parking is available in the lot North of the building on Howard.
What to Bring (optional): laptop, your favorite soldering iron
What You Get: Boarduino kit, USB programming cable, and a mini-breadboard
Location: Baltimore Node; 120 W North Avenue, Baltimore MD 21218
When: August 28, 2010, Noon – 4pm
Ticket Price: $50
Limit: 10 people